Procurement leaders
How eProcurement unlocks strategic value through automation, greater visibility, and cost savings.
Procurement teams are an essential part of modern organizations, supporting functions across the business, managing suppliers, and mitigating risk.
But as valuable as the work can be, it has its frustrations. Many organizations have an outdated view of procurement, seeing it as a purely administrative function. A surprising number still use manual, paper-based processes to manage purchasing, while others make do with the clunky procurement module in their ERP.
Procurement leaders know there is a better way. If your organization is looking to maximize savings and find more efficient ways of working, now is the time to make the case for change and show that procurement can provide your business with a meaningful competitive advantage.
Unimarket enables strategic procurement
Our customers explain how Unimarket's eProcurement solution empowered them to deliver more strategic value for their organizations.
<
Illinois Institute of Technology
>
Illinois Institute of Technology
"It has allowed us to be more strategic in our procurement planning… It's just very, very easy to use and a huge improvement from completing the procurement process in our ERP."
Madeline Olszak, Director of Procurement Services
Illinois Institute of Technology
A foundation for financial success
An eProcurement solution can be a fundamental part of financial stability and success by empowering your organization to:
Forecast with greater accuracy thanks to visibility into committed spend
Build a financial roadmap based on reliable data
Achieve savings by directing spend to your preferred suppliers and taking advantage of your negotiated pricing
Deliver on strategic objectives while maintaining a prudent approach to spending
Report effectively to your board or senior leadership
Reduce the risk of fraud by standardizing and automating your review and approval processes
Ensure spending complies with all relevant internal and external policies and regulations Respond quickly and confidently to information requests as part of an audit.
A strategic role for procurement
Implementing an eProcurement solution makes it possible to transform the role of procurement in your organization.
By automating the procure-to-pay process, you reduce the level of effort required at every step and free up your procurement team to focus on more strategic objectives. Combine this with the efficiencies and savings the function will be able to deliver and you'll have a strong story to tell about the value that procurement brings to your organization.
Automating the procurement process through a purpose-built spend management solution enables your procurement team to:
Empower users to manage their own purchasing while maintaining control and visibility
Direct spend to preferred suppliers, so you can leverage your buying power to achieve the best possible pricing and contract terms
Grow and diversify your supplier ecosystem by making it easier to onboard new suppliers while also rationalizing suppliers where it makes sense
Reduce work associated with managing your supplier base by empowering your suppliers to manage their own data
Help your organization achieve its sustainability goals.
Building support for eProcurement
Your finance leader has a key role to play in any decision about new procure-to-pay software, but they're focused on your ERP. They probably haven't given much thought to the benefits of a purpose-built eProcurement solution, or they may not be convinced it's worth the investment, especially if you're making do with the procurement module in your ERP.
But they may not have considered the hidden costs associated with this approach. For starters, the procurement module in your ERP wasn't designed to manage supplier integration and enablement. As a result, onboarding new suppliers is inefficient and time consuming, both for procurement and IT.
Another problem with the procurement module in your ERP is that most users find it complex and difficult to use. Creating requisitions for common, everyday purchases can be a frustrating task involving multiple steps and screens. Super users who purchase frequently might be able to live with that, but for everyone else it's a hassle and a reason to avoid using the system. And you know what that means: more spend off contract, higher costs, greater inefficiencies, and more risk.
Perhaps it's purchasing cards that are causing headaches. These might have initially seemed like a good idea, but they make it very difficult to control and forecast spending. You want to make purchasing easier for your users, but purchasing cards don't have to be the answer. The right eProcurement solution offers the best of both worlds: easy purchasing and visibility and control over the entire procurement process.
Your finance leader is an important ally when making the case to invest in an eProcurement solution. We can work with you to show how a strategic approach to procurement, underpinned by an easy-to-use eProcurement solution, can play a critical role in helping your organization gain a competitive edge.
How to make the case for eProcurement
Download our step-by-step, practical guide to creating a compelling and data-driven business case for a eProcurement software. Find out:
Why eProcurement is the right choice for cost-conscious institutions
How to get buy-in from key stakeholders
The best way to structure your business case
How to counter arguments against change.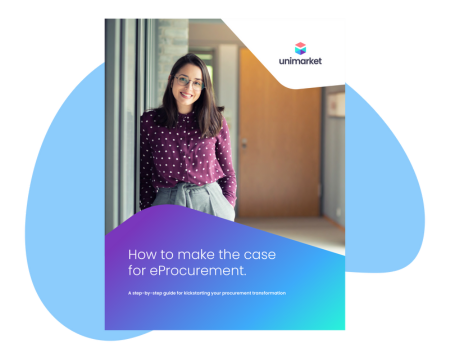 The Unimarket difference
At Unimarket we make procurement simple by streamlining and automating the procurement process, saving your organization time and money. Our fully featured solution does everything you need without the distraction of functionality you're unlikely to use.
Ease
User adoption is key to unlocking the strategic value of eProcurement. That's why we've designed our solution to be easy for everyone to use, no matter their role or level of comfort with technology. It offers an instantly familiar online shopping experience that people love to use.
That means more spend on contract, better visibility into spend, and greater administrative efficiency — all adding up to the return on investment you need.
Savings
With Unimarket, you can significantly reduce the cost of purchasing across your entire organization.
Hard dollar savings come from being able to direct spend to your preferred suppliers and leverage your buying power to achieve the best possible pricing and contract terms. Plus automated invoice matching and approvals mean your accounts payable team only needs to manage exceptions, freeing up time and resources.
Integration
Our solution integrates tightly with your ERP, allowing data to flow easily between the two systems. This provides certainty around data accuracy and consistency while ensuring your finance system remains the master system of record.
And because Unimarket is hosted in the cloud, you're always using the most up-to-date version and there is nothing for your IT team to manage.
Affordability
Our simple, all-in pricing model is completely transparent and allows you to have as many users and suppliers as you need, without worrying about increasing costs associated with per-user or per-seat pricing. Implementation, testing, user training, and ongoing support are also all included.
Ready to start?
Get in touch to find out how we can help you make procurement more strategic.